125 Years of Community Banking
Anchor State Bank has proudly served Central Illinois for 125 years - through two world wars, the Great Depression, several financial downturns and other calamities to the nation.
From its inception to today, the Bank and staff have had their roots firmly planted in the village of Anchor, a base for serving the communities and agricultural areas of central Illiniois.
Our staff and Board of Directors are proud to work for a Bank that is large enough to provide modern financial services while being small enough to know its customers as individuals; providing them with personal service not always available from a larger institituion.
In a continuing effort to provide the best service possible, our building was completely remodeled in recent years. New products and services have been researched and evaluated — and the most recent product additions have included the very popular Shazam "Chek Card" program, image bank statements, and eStatements.
We are excited to share we will be introducing online banking in early 2021. Additional products and services are always under review and up for consideration.
Anchor State Bank is owned by Anchor Bancorporation, Inc., a one bank holding company. Anchor Bancorporation is owned by investors who are 100% committed to keeping the bank local as an independent community bank.
The Beginning: Anchor Bank
No formal records of Anchor Bank are known to remain from the period prior to 1920, when Anchor Bank was a privately-owned banking firm.
Private banks were not closely regulated in the early 20th century and their records were the property of the proprietor. As a result, records of the bank, prior to 1920 were held by owner Jacob Martens and were destroyed after his death.
From newspaper accounts, we found that in March 1895 "W. E. McReynolds of Normal and R. Stagner established a private bank and rented space in Hester & Worley's general store" — and that their safe was "one of the largest in the country."
Officially, the bank would have been known at the time as McReynolds and Stagner, Bankers. But, as nearly as can be determined, it was always referred to locally as the "Anchor Bank". A photograph of the Anchor business district, taken about 1915, shows the present bank building with a window sign reading "Anchor Bank - Jacob Martens, Prop."
Becoming Anchor State Bank
In 1917, after a series of regional and nationwide banking crises, the Illinois General Assembly adopted legislation which required all private banks to obtain either a state or national bank charter within three years.
On September 29, 1920, Jacob Martens, John H. Nafziger, and William C. Schleeter applied to the State of Illinois to reorganize the bank as a state-chartered bank with capital of $25,000.
250 shares of common stock were subscribed for and purchased by local citizens at a cost of $100.00 per share.
Following is a listing of the twenty community-spirited residents who felt strongly enough about the need for a bank to make what was, at that time, a substantial investment in their community. Many area residents are direct descendants of these original shareholders.
| Subscriber | City | Shares |
| --- | --- | --- |
| William Beecher | Anchor | 5 |
| Adolph F. Bielfeldt | Anchor | 10 |
| Clifford Brown | Anchor | 10 |
| Charles Brucker | Colfax | 10 |
| Henry Friday | Anchor | 10 |
| Henry Klintworth | Anchor | 5 |
| Martin Klintworth | Saybrook | 3 |
| Henry G. Lage | Anchor | 5 |
| John M. Lorig | Colfax | 5 |
| Jacob Martens | Anchor | 78 |
| Margaret Martens | Anchor | 2 |
| John Martensen | Anchor | 2 |
| John H. Nafziger | Anchor | 30 |
| Chris Schmidt | Anchor | 5 |
| Herman Schmidt | Colfax | 5 |
| William C. Schleeter | Anchor | 10 |
| Arthur H. Seifert | Fairbury | 10 |
| E. O. Theilman | Anchor | 10 |
| George W. Ulmer | Colfax | 10 |
| Harry B. Ulmer | Anchor | 25 |
The five original directors elected at the first meeting were Jacob Martens, John H. Nafziger, Clifford Brown, William C. Schleeter, and Charles Brucker.
The charter application was approved and the bank was chartered on December 20, 1920. Anchor State Bank assumed the assets and liabilities of Anchor Bank and officially opened for business on January 3, 1921. Later in January the bank purchased the bank building from Mr. and Mrs. Jacob Martens for $5,000.
Our History: A Timeline
The following is a timeline history of Anchor State Bank, gleaned from various sources.
1895
Anchor State Bank opens for business as The Anchor Bank.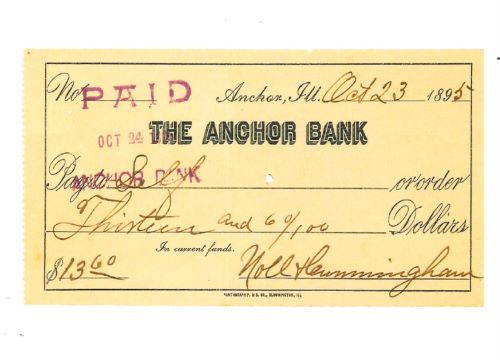 1910
View of Anchor State Bank circa 1910.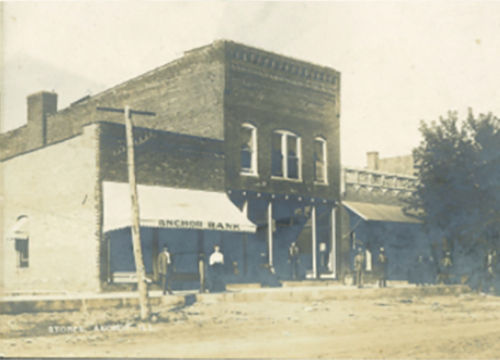 1920
The practice of banks giving away calendars goes back 100+ years! What's amazing is many of them from this era can still be found in thrift and antique stores as many people couldn't afford to buy artwork in those days and kept them long after the year had ended.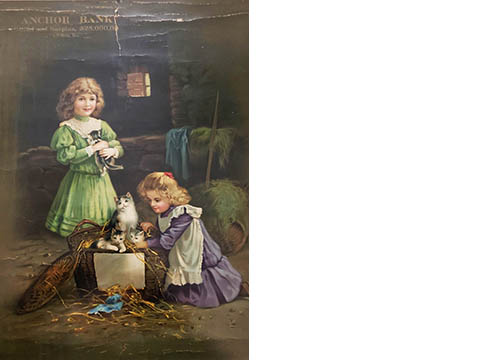 April 1933
President Franklin D. Roosevelt declares a "banking holiday" and President Jacob Martens resigns from office due to ill health after nearly 30 years' service.
June 1933
Bank reopens after Roosevelt's "bank holiday". Depositors agree to defer withdrawal of a 10% portion of deposit. This was a common condition in those banks which were permitted to reopen by examiners. Many banks did not reopen at all!
August 1938
40% of deposits "waived" in 1933 are released and paid to depositors.
September 1940
50% of deposits "waived" in 1933 are released and paid to depositors.
June 1947
The final 10% of deposits "waived" in 1933 are released and paid to depositors. No funds were lost by depositors of the bank during the Great Depression.
July 1951
Bank opens Savings Department for first time. Savings account were offered paying 1.00%.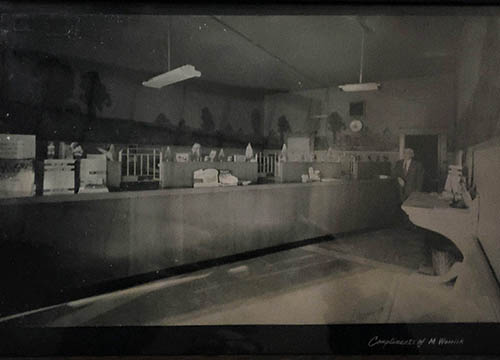 December 1970
Total assets of bank - $2,128,000.
January 1974
Merle Coile elected as a director, replacing Dr. J. A. Van Ham.
June 1979
James Eckert elected as Executive Vice President, Cashier, Director, and CEO, replacing R. Duane Cooper.
April 1982
Bank opens new Trust Department. James Eckert is appointed first Trust Officer.
December 1984
Total assets of bank - $10,624,000.
April 1993
Group of bank employees, directors, and local investors purchases controlling interest from Dean Bright. James Eckert is named President. Wayne Hammer, Gayle Simpsen, and Jeffrey Coile are elected as directors.
March 2010
Daniel R. Eyer elected as director.
December 2015
Total assets of bank - $15,517,000.
December 2019
Total assets of bank - $19,612,000. Bank is purchased by William H. Davis and William A. Minnich. Kristopher T. Kern and Daniel P. Walsh are elected as directors.
June 2020
Total assets of bank - $25,964,000.
August 2020
Bank successfully closes out participation in the SBA's Paycheck Protection Program with 80 closed loans representing over $9MM in fundings.
September 2020
Michael C. Voinovich elected as a director.
June 2021
ASB completed its participation in the 2021 Paycheck Protection Program. It assisted over 120 borrowers with an additional $11 million in loans.
June 2022
ASB completes its renovation of the former Anchor Inn and now occupies both buildings.
---
Credits & Thanks
This short history could not have been written without the help of three persons:
MURIEL MARTENS HOFFMAN, granddaughter of long-time bank President Jacob Martens, and author of the 1976 Centennial History of Anchor, Martin, and Lawndale Townships, provided a wealth of information through her research, which included the laborious reading of the Colfax, Anchor, and Bloomington newspapers from the 1870's to the 1920's.
LOUIS C. MARTENS, nephew of Jacob Martens, and a customer of the bank from the 1920's until his death in 2002 provided much valuable information on the bank from the time of its conversion to a state bank charter.
JESSE H. BARNES, son of Henry Barnes, an early bank owner. Jesse was a lifetime resident of the area and died in 1993 at age 104. He provided a wealth of information about the early years of the bank.